I spent most of November and December, planning for Christmas day. As we had eight people over on the day, there was a lot to do and I want to make the house, but especially the table, look as festive as possible. I started with a silver and white theme and everything developed from there. We wanted to create a warm welcome and tried to create a simple, but festive look to the hallway.
This is how the table turned out.
I made the cinnamon stick place settings, which ended up working really well with the gold tones in the crackers, which my Grandmother brought.
With all the candles lit.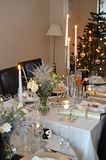 I wanted to bake something that would look great on the table, so I made these snowflake cookies.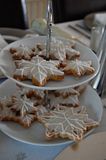 My cousin had brought some mince pies that she had made. Once a few of my cookies had been eaten, we filled it up again with her mince pies. Which looked great all together.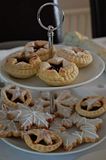 After all the planning I was really happy with the result and had a great day.